in conjunction with :
Oct'21 Tangs 6+6% rebate starts from 25 Oct – 27 Oct – online only.
classic members enjoy all 3 days compared to the usual 2, so don't miss this !
// it's online only so please do take note and cart out online!//
*you must be a classic tangs member to earn 6+6% rebate
(6+6% of every $10 nett) !
If you're not a member yet, you can opt to:
1. sign up a free membership online and make purchase of $80 nett spending to activate your membership before purchasing packages of bigger value so that you earn rebates.
2. if you're coming in for a trial session with us during 25-27 oct, and the total bill happens to be $86(w gst) or more,  we're able to help you  activate your membership. Afterwards which you can purchase the package online to earn the 6+6% rebates 🙂
if in any doubt, you can always drop us a whatsapp or sms text to 96668843 , or simply ring up 67350013 from 1130am to 8pm. You can also direct message us on instagram (@qweensg) after shop hours.
Starting with our member's rebate special deals,
Available only once, or maybe twice a year… the DEAL you def don't wana miss .
plus, the best deal for first timers who want to start on their hair removal journey:
Our highly coveted 1 YEAR Female Full Brazilian IPL
Cart out here :
https://tangs.com/product/qween-1-year-weekdayoct21-female-ipl-for-full-brazilian
renewing your package for maintenance, or just can't commit to the weekday only schedule? fret not.
we know many of you are concern with getting a package in this situation.
No Expiry, No Rush ! Our 6-sessions package have no expiry and no time limitation so you
can come in anytime you like ! (all ipl packages have a blackout of 2 weeks before cny)
Enjoy 20% off  selected 6-sessions Male & Female IPL package 
we know many of you are waiting for tang's members day to purchase & maximise your savings

here's listing some of our ever popular ipl packages that don't harm your pocket!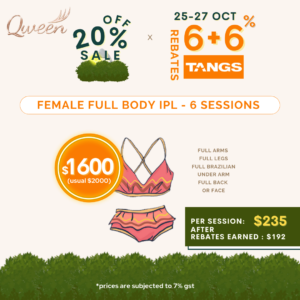 not forgetting our dear male customers too.
ladies, best time to get your partner started with 20% off !
Here's an overview pricelist of all our other IPL packages on sale:)
Shop safely online,
just hop over to https://www.tangs.com/productlist/brands/QWEEN_1
Your brows frame your face above the mask.
Regardless if you're the 50% workforce going back to work, or still working from home,
now's the best time for you to get your brows done (and go back to work hehe).
Two sessions of Eyebrow Embroidery (new customers) by Jo at $641
https://tangs.com/product/qween-new-eyebrow-embroidery-2-sessions
It's also a good time to  purchase/renew your eyelash packages !
Click on this link for more on Cryo firming/toning treatment https://qween.com.sg/2020/04/02/cryotherapy/ *
Click on this link for more on Qween's IPL treatment
Female Brazilian : https://qween.com.sg/2018/03/12/my-ipl-journey-female-brazilian/
Men's Boyzilian : https://qween.com.sg/2019/06/04/insight-to-qween-ipl-hair-removal-for-men
You do your own math. How many useless trials or even ineffective IPL packages  has gone down the drain with nothing but slight pain and still the same amount of recurring hair?
While you may have grown a lil' sceptical about big packages, be assured Qween's 6-sessions IPL package prices are reasonably-priced with no expiry !
Remember to cart out these deals according to your respective members' rebate weekend dates.
don't come crowd in Tangs, we will NOT see you in store at Tangs Plaza this weekend, simply just CLICK AWAY and CART OUT !
if you have any questions, feel free to drop us a whatsapp  (there is a direct whatsapp icon at the corner of the page!)
stay safe, we will do this 1 day a time.